Travel Arrangements
Following your registration, you will receive a confirmation email from "Heming Group" (This is your copy of your registration form).
If you have not received it, the registration was unsuccessful and you must register once again.
COMPASS will cover best available economy class fares for flights in accordance to our Travel policy.
All travel arrangements will be made with Heming Group.
Bayer has a process of requiring compliance office approval per country when HCP's are to attend sponsored meetings.
It is important to stay within the specifications as noted below:
extended stays beyond the purpose of the travel are not allowed (ie, flights must be booked to correspond with the meeting dates/times),
HCPs are not to book their own travel,  and
We are not allowed to book layovers that extend beyond the time for a transfer to a connecting flight
Hotel Information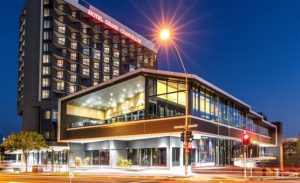 Hotel Grand Chancellor Brisbane
Accommodation will be provided at the Hotel Grand Chancellor Brisbane.
All accommodation MUST be booked via the registration page on this website, and not with the hotel directly.
Hotel Grand Chancellor Brisbane
23 Leichhardt St
Brisbane City QLD 4000, Australia
Phone Number: +61 7 3831 4055
Hotel Check-In Information
Check-in time is 14:00 hrs. Every effort will be made to accommodate guests arriving earlier, however there are no guarantees. Check-out time is 11:00 hrs. A credit card is required by the hotel at check in.
Meals
Meals will be included commencing with welcome buffet dinner on December 9th at the hotel and ending with breakfast on December 11th.
Incidental expenses, telephone calls, room service, movies etc. will be at your own expense.
For your convenience we have included in room Wi-Fi.
Bring A Guest
Delegates Wishing to Bring a Guest
Due to Healthcare Compliance guidelines, this meeting is open to study personnel only.  Family members or other non-study personnel will not be able to attend company sponsored activities and meals.  Thank you for your understanding.
Travel & Ground Transportation
After approval of your registration, you will be contacted directly by a representative from Heming Group to confirm all travel arrangements. Please allow 10 business days for processing.
Your cooperation in booking/registering early is most appreciated. We will endeavor to confirm your preferred airline, flight times etc. However we cannot guarantee that all special requests can be accommodated.
Your travel documents will be issued electronically and you will receive a copy of your electronic airline tickets after confirming your flights with Heming Group. Please print a copy of your electronic ticket for travel. Two (2) weeks prior to the meeting, you will also receive a final travel confirmation notice, including ground transfer and hotel accommodation details.
Arriving by Air
If arriving by air: Flight proposal will be sent to you within 10 business days of registration. Flights are only held for 24 hours; therefore it must be approved by you by email as soon as possible. Upon approval you will be sent a copy of your electronic ticket. Once issued, airline tickets are 100% non-refundable. You will be personally responsible for any changes made after ticketing.
It is also important to check with your carrier regarding new baggage allowances. Baggage allowance differs by airline, country and destination. Several airlines are now charging for checked luggage. You may incur excess charges due to number of pieces, size and weight per bag or per person. Please visit the airline website.
Ground Transportation/ Shuttle
Round trip ground transportation will be provided. Details will be forwarded 2 weeks prior to travel.
Driving
If you are driving to the meeting, onsite parking is available any charges will be covered. PHRI reimburses .44 cent/km CAD.
Changes/Cancellation Procedure
Once accommodation and travel arrangements have been booked, any itinerary changes or cancellations will incur charges for which you will be responsible.
Insurance
All delegates should ensure that they have the necessary travel insurance.
Note: Travel insurance is NOT included and you will be responsible for insurance premiums.
Passports & Visas
It is MANDATORY that you have proper documentation for travel to Australia. It is the delegate's responsibility to check entry visa requirements with their local Australian Embassy.
Should you require any documentation to assist your visa application, we are able to provide copies of invitation letters, confirmation of hotel bookings and travel confirmations as appropriate. Please email karan.chrysler@phri.ca
Reimbursement Claims
All site Personnel will receive an Expense Reimbursement Form in their welcome packet, with instructions on submitting and processing their meeting expenses. Please follow below guidelines:
Keep all original receipts(Receipts should be itemized and not include any alcohol).
For ground travel using your own personal vehicle, please include a map from Mapquest. Go to mapquest.comindicating your start point and end point that will calculate the mileage traveled. PHRI will reimburse $0.44 CAD per kilometer.
Currency conversion will be based on Bank of Canada rates at the date of the meeting.
Reimbursements can take approximately 6-8 weeksto process.
For More Information About Travel or Hotel Accommodation
Please contact the Heming Group
E-mail: meetings@heminggroup.com
Tel: 1-888-639-4565 (from North America only)
Tel: 1-905-639-8424
Fax: 1-905-639-8759
HOURS: EST 9:00am to 5:00pm
Website: www.heminggroup.com
The Heming Group | 2319 Fairview St., Unit 609, Burlington, ON L7R 2E3 | Tel: 905.639.8424 | Toll-Free 1.888.639.4565 | Fax 905.639-8759 |  meetings@heminggroup.com
Conference Management | Tel: 905.639.2119 | Toll-Free 1 888 639 4565
For General Inquires, difficulties registering, study related questions or visa letter requirements:
Please E-mail karan.chrysler@phri.ca