Heming Group keeps up to date and uses these tips and technology along with other current systems to keep you on schedule and to ensure you are well prepared and can enjoy your trips to the fullest.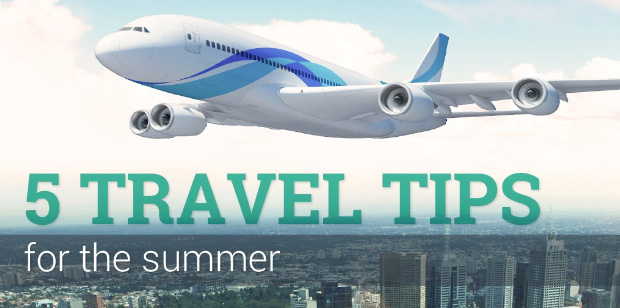 Summer Travel Tips
As summer kicks into gear, you're likely heading out on some awesome family vacations, getaway trips, or just more sales meetings and conferences. No matter the purpose of your trip, we're here to help you travel brilliantly with some summer travel tips that we've picked up through our travels.
Use those weekdays – as creatures of habit, it's easy to book your trip over a regular week. However, you'll get better rates and travel more smoothly if you can schedule with the weekend in the middle. Try to leave on a Thursday and return on Tuesday or Wednesday, for instance.
Raise the roof – when you book your hotel, request a room on a higher floor. Most vacationers will book lower floors to be closer to the pool, so a higher room may reduce the noise, and probably give you a better view, as well.
Get a rashguard– instead of slathering sunblock on every few hours, buy a long-sleeve rashguard. These lightweight "swim shirts" will protect your skin from the sun, dry quickly, and come in a huge variety of sizes and colors.
Stay Connected – a portable power pack is one of our favorite travel gadgets, and fits easily in your pocket or bag. You can get them in all different shapes, sizes, and capacities, so choose one that fits your needs and you're good to go.
Use TripCase – obviously, the best thing you can do is put all your trip details into TripCase. We'll keep you up-to-date with free flight alerts, seatmaps, and weather forecasts, and you can even use TripCase on your fancy new smartwatch. We'll even help you remember that awesome dive bar you found while strolling along the beach.