Thank you for choosing to attend the ACT/AEC Canada 2nd Annual Meeting in Charlottetown, Prince Edward Island on September 21st – 22nd, 2023.
The meeting will be held at the Prince Edward Island Convention Centre located at 4 Queen Street, Charlottetown PEI C1A 4A2.
We respect the history, spirituality, and culture of the Indigenous communities on Epekwitk, the traditional name for PEI, as well as across Turtle Island.
Please complete registration form no later than July 27, 2023. 
We must receive the registration form, even if you are not attending the meeting, so we can CANCEL pre-booked room reservations. Upon successful submission of your registration form, you will receive a copy via e-mail.
Heming Group will be organizing the meeting on our behalf and will arrange all of your flights, arrival ground transfers and accommodations.
You will be contacted by a representative from  Heming Group via email within 14 days of registration.
If you have any travel related questions please contact; meetings@heminggroup.com. 
If you have any questions regarding the meeting content, please contact ACT.Canada@phri.ca
Below is a tentative schedule of events for the meeting: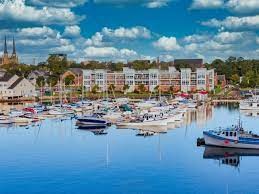 Thursday, September 21, 2023
07:00 – 08:00
Registration & Breakfast
08:00 – 12:25
Meeting
12:25 – 13:30
Lunch
13:30 – 17:15
Meeting
19:00 – 22:00
Reception and East Coast Kitchen Party Dinner
Friday, September 22, 2023
07:00 – 08:00
Breakfast
08:00 – 12:25
Meeting
12:25 – 13:30
Lunch
13:30 – 15:45
Closing remarks and adjournment
*Event times are subject to change and are estimated only.
A more detailed agenda with session information will be distributed by email prior to arrival.
Thank you and we look forward to seeing you in Charlottetown!